Testimonials
View real photos and quotes from recent Graboyes customers!
Testimonials
Graboyes has provided homes and businesses with new windows and doors for over 70 years and made customer satisfaction our top priority.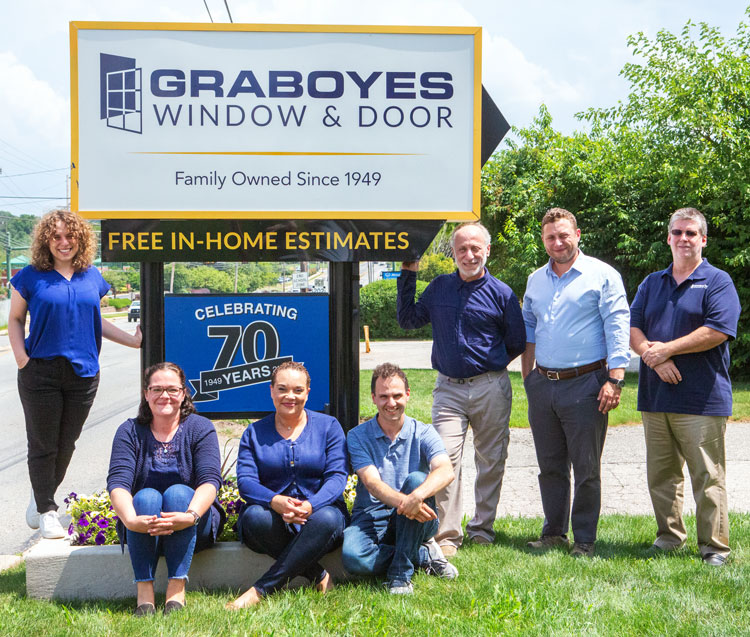 Albert
Collegeville, July 2023
We are super pleased with our front door.
John
Norristown, April 2023
Meghan
Philadelphia, April 2023
Love, love, love our new doors!
Nuwan
Doyelstown, January 2023
Love the doors! Thank you!
Jon
Ambler, December 2022
So happy to replace the drab maroon door with beautiful grey, and we love the taller sidelights!
Gene
Lanhorne, August 2022
The service was great, the door was quickly installed and the working men were polite and worked hard and we had our door and windows installed in one day.
Sharone
Philadelphia, June 2022
Kelly
Collegeville, May 2022
I'm so happy with these doors…they're beautiful!!
Nick
Conshohocken, November 2021
Graboyes did a great job with my new front door. They helped design it and offered great insight in what would work best
Bill
Blue Bell, November 2021
We absolutely love our new doors!
Paula
Conshohocken, November 2021
I recently had my basement door and two basement windows replaced by Graboyes. Installers were professional, knowledgeable and a pleasure to deal with. I was very pleased with the entire experience from the initial visit where a quote was provided to the final installation. I smile to myself every time I go into my basement and see my new door and windows.
Dorothy
Chester, November 2021
I am very pleased with the work performed. I love the door. The quality & performance is awesome. The installer was on time, proficient, and efficient. He left the area so clean, I was truly impressed. I will definitely use your service again in the future, and I would definitely recommend to my family and friends. Thank you for a job well done from start to finish.
Jennifer
Blue Bell, November 2021
We had an amazing experience with Graboyes from the kind person from sales who came out and gave us a timely and fair estimate, to the experience individual who installed our new sliding glass door. We were impressed with the company and love our new door. We would definitely recommend this company and will use them again.
Mitch
Plymouth Meeting, October 2021
I had a storm door and 17 replacement windows and some caping work done by Graboyes. I was very pleased with the sales rep Ray Carr. He was very experienced and knowledgeable and was not a high pressure salesperson. I signed a contract with Ray and then a second man came to take final measurements. I did have an issue with the installers however Mr Graboyes and his daughter addressed my concerns immediately and corrected all issues. I am happy that I used a local company who has roots in the neighborhood and have recommended Graboyes to several family members.
Marigene
West Chester, October 2021
Graboyes provided a solution to my open loft area by installing a soundproof window. It's worked out perfectly.
Lynn
Blue Bell, October 2021
Love the products as well as the service! We have now ordered many products from Graboyes and recommend them to our friends!
Rick
Conshohocken, October 2021
I have done business with Graboyes and my salesman Ray Carr now for 25 years. They have always done an amazing job. From exact measurements and follow-through from their technical & customer service departments and coming through during a very difficult Covid environment. They are the best and I wouldn't go anywhere else. Highly recommended
John
Harleysville, October 2021
One of the most professional companies we've dealt with in a long time. From the gentleman we placed our order with to the woman who updated us throughout the long delay for materials to the gentlemen who installed our sliding glass door and trim our windows to the gentleman who stopped by to correct an issue (which turned out to be a non-issue). Each and everyone was so kind and so helpful. Such a class act business! And, such a quality product. We couldn't be happier with it all.
Josh
Schwenksville, September 2021
Great job and quality products
Jen
Schwenksville, September 2021
We were very pleased with the windows and doors we had installed in July. Quality and Service were great!!
Tara
Havertown, September 2021
Love my front door! The team did a great job!
Sharon
New Hope, August 2021
We are extremely pleased with the AMAZING front door that we ordered from Graboyes.
Mary
Collegeville, July 2021
We're very pleased. Your crews did a great job.
Barbara
Fountainville, July 2021
Love these bow windows! Really enhanced our curb appeal!
Sandra
East Norriton, June 2021
Leigh Ann
Glenside, April 2021
We really love our special window! It is certainly the focal point of the room and the quality is even better than we expected!
Krystal
Drexel Hill, April 2021
Your guys converted an unused entry door into a window and they did such a great job. It's stunning and lets in so much natural light.
Grant
Plymouth Meeting, April 2021
I absolutely love the windows you put on my office. I now want them for my home.
Matt
Plymouth Meeting, April 2021
Matt
Trooper PA, March 2021
​We love these doors. They're amazing
Lisette 
Lansdale PA, March 2021
Stephanie
Plymouth Meeting, March 2021
​We love these doors. They're amazing
Anonymous Customer
Chester County, March 2021
Love this in our bathroom!
Dave
North Wales, January 2021
Every time I walk past my front door I smile and think of you folks.