Testimonials
Read about the Graboyes philosophy on windows, doors, and you the customer.
Testimonials
Graboyes has provided homes and businesses with new windows and doors for over 70 years and made customer satisfaction our top priority.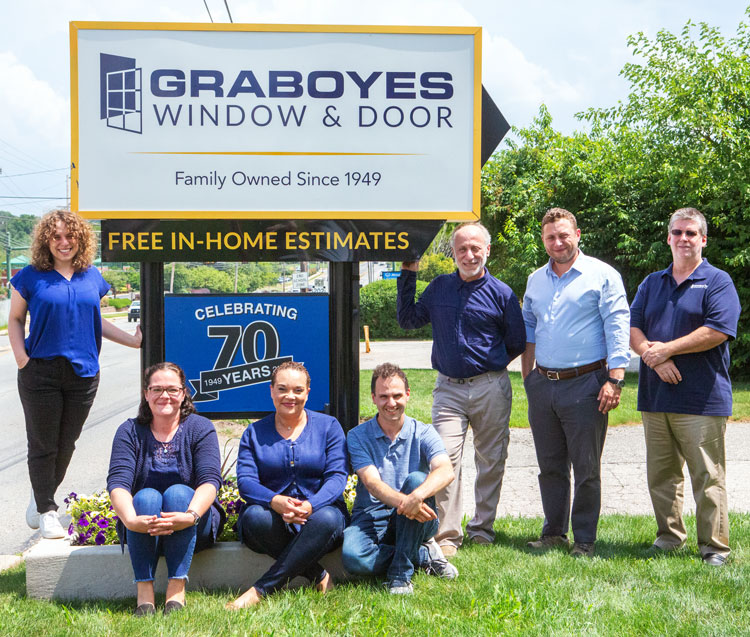 Sharon
New Hope, August 2021
We are extremely pleased with the AMAZING front door that we ordered from Graboyes.
Mary
Collegeville, July 2021
We're very pleased. Your crews did a great job.
Barbara
Fountainville, July 2021
Love these bow windows! Really enhanced our curb appeal!
Sandra
East Norriton, June 2021
Leigh Ann
Glenside, April 2021
We really love our special window! It is certainly the focal point of the room and the quality is even better than we expected!
Krystal
Drexel Hill, April 2021
Your guys converted an unused entry door into a window and they did such a great job. It's stunning and lets in so much natural light.
Grant
Plymouth Meeting, April 2021
I absolutely love the windows you put on my office. I now want them for my home.
Matt
Plymouth Meeting, April 2021
Matt
Trooper PA, March 2021
​We love these doors. They're amazing
Lisette 
Lansdale PA, March 2021
Stephanie
Plymouth Meeting, March 2021
​We love these doors. They're amazing
Anonymous Customer
Chester County, March 2021
Love this in our bathroom!
Margo
Philadelphia, PA July 2020
We are so pleased with the installation.
Dave
North Wales, January 2021
Every time I walk past my front door I smile and think of you folks.
Sherri
Ambler, PA December 2019
With all new windows and doors, I feel like we're living in a whole new house.
Joanne
Dresher, August 2020
Exactly what I wanted. I've already referred you to my neighbor.
Joe
Oxford, PA February 2020
Everything was just great. We're really happy.
Lucia
Philadelphia, PA November 2019
The door is really great.
Frank
Ambler, PA October 2019
Your guys did really nice work
Linda
Glenside, PA August 2019
We're just so happy with how everything turned out.
Henry
Merion Station, November 2019
Ron
Mt. Laurel, NJ September 2019
This is exactly what we wanted. Perfect.
Barbara
Blue Bell PA, May 2019
We're absolutely thrilled!

Todd
Norristown, August 2019
You took and empty wall and made our dream window. We love it.
Patty
Philadelphia PA, January 2019
We're so happy. Can't wait to have you come back and do our windows.
William
Philadelphia, August 2019
These doors are so unique! Wonderful job.
Heidi
Wayne PA, March 2019
My new windows are so beautiful and cozy

Peggy
East Norriton, PA May 2019
You guys are great. I wouldn't go anywhere else.
Collegeville PA, October 2018
We're loving this new door we just installed. It's in a smooth fiberglass and has Esmond glass throughout.
Stephen
Harleysville PA, March 2019
I appreciate how working with you was a relaxing experience. No high pressure junk at all. We're happy.
Lynn
South Philadelphia, March 2019
The door is installed and looks beautiful! The installers were wonderful.
Robert
Philadelphia PA, January 2019
Great customer service and a great storm door.
Dana
Haverford PA, July 2018
This door is the best. And everyone we worked with from the office staff to the installers was so nice. Thank you!
Gracie
Wynnewood PA, May 2018
That's a good sturdy door! Very nice job.
Mary
Philadelphia PA, August 2018
Bernard
Norristown PA, February 2018
Your guy came, installed the storm door quickly and cleaned up. I'm happy!
Mariel
Devon PA, June 2018
Charles
Royersford PA, April 2018
We're really happy. Everything turned out nicely.
Jackie
Roxborough PA, April 2018
These doors are AMAZING !!!
Jason
East Falls PA, April 2018
Before you put this door on, we had terrible water issues. Now we're so happy with the results, and it looks great.
Sandy
Phoenixville PA, March 2018
The windows are great. What an upgrade! We're very happy.
Megan
Springfield PA, January 2018
Our new windows are great!
Rita
Malvern PA, January 2018
I've received many compliments and I love them! And your guys did a great job.
Patricia
Blue Bell PA, February 2018
We were pleased with the workmanship and quality of the product. The door, style and color look great.